About Us - Dog Trainer Toledo Ohio
Our Dog Trainer
Training Dogs Since 2011
We are a dog training company based in Toledo, Ohio. Our company's vision is to keep dogs out of shelters and into family homes. The truth of the matter is, some people just can't handle their dog. Here at Glass City K9, LCC, we want to help both you and your pet so that this doesn't happen. We are here to improve both you and your dog's quality of life. The best part of it all? Our dog obedience training has a lifetime guarantee.
David Johnson is our head dog trainer and is the founder of Glass City K9, LLC. He has been training dogs since 2011 and in that time has helped many clients build strong, loving relationships with their dogs. He is a member of the International Association of Canine Professionals (IACP). David also personally trains all of our dog trainers to ensure all members of the training staff deliver outstanding canine training for all dogs entering our classes. The company is listed with the BBB of Northwest Ohio and Southeast Michigan with an A+ rating. Glass City K9 LLC also supports local organizations in the surrounding communities such as Humane Ohio that help save and rescue pets and promote the well-being of animals.
David not only enjoys working with new dogs every day but loves the feeling of seeing a happy client. He's not happy unless you're happy! So, learn more about our K9 training then schedule a no obligation dog training evaluation. Contact Glass City K9, LLC – your Toledo area local K9-training experts.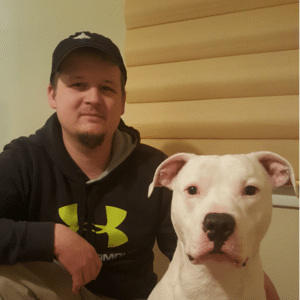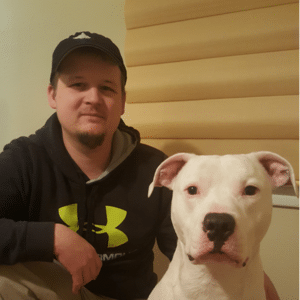 Dog Trainer, Dave Johnson – Owner (and that's Hoss – our photobomber).
Dog Training Evaluation
Having your dog trained can be a very personal and important decision – it is for most of our clients. You may have questions or you're not even sure of what questions to ask. Before making any decisions, let me suggest scheduling a free, no obligation session (we call it our "Dog Training Evaluation"). to give us a chance to meet and see if we're a good fit for you AND your dog.
Dog Training Service Area
We service Northwest Ohio and Southeast Michigan including Toledo OH, Sylvania OH, Perrysburg OH, Maumee OH, Holland OH, Monclova OH, Waterville OH, Whitehouse OH, Oregon OH, Northwood OH, Ottawa Hills OH, Swanton OH, Rossford OH, Walbridge OH, Findlay OH, Napoleon OH, Bedford MI, Temperance MI, Petersburg MI, Monroe MI, Ottawa Lakes MI & Blissfield MI. For more information about the areas we service, please contact us at Glass City K9 LLC today!
GET A FREE DOG TRAINING EVALUATION
Tell us a little about you and your pet and we will contact you right away! And don't worry, we won't spam your email!